Fresno City College "City Jazz Festival" featuring a local musician – The Rampage Online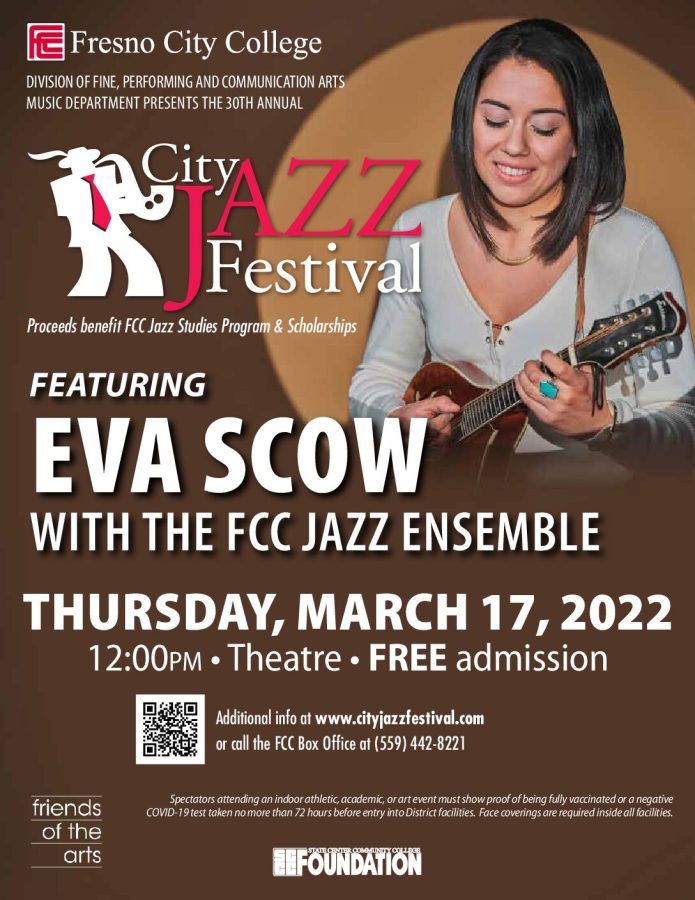 The City Jazz Fest at Fresno City College takes place March 17 at the FCC Theater in the Speech/Music Building. The event will start at 8 a.m. and end at 6 p.m.
The main event will begin at noon with a performance by the FCC Jazz Ensemble and local musician Eva Scow, led by FCC Director of Jazz Studies and Festival Director Paul Lucckesi. Scow plays a variety of stringed instruments, such as the fiddle and the mandolin.
Lucckesi said there will likely be a chance for students attending the festival to have a Q&A session with Scow after the main performances.
The event will include workshops and clinics for the various student jazz groups present throughout the Central Valley.
"At the end of each performance, students meet in a room with one of the clinicians and receive 30 minutes of a clinic on a variety of different topics. Especially what they did, especially what just happened," Lucckesi said.
Schools in attendance will include Central High School, most Clovis Unified high schools, a few Fresno Unified high schools, and some of their feeder colleges.
Lucckesi was "apprehensive" about planning and bringing the festival back amid the omicron wave, but is happy for it to happen again.
"My biggest concern was, 'how do I get the kids here safely, and how do I get people to work with them, and give them some sort of experience in the safest way possible,'" Lucckesi said.
According to Lucckesi, the Reno Jazz Festival in late April will be entirely virtual, so he's thrilled that FCC's event is happening in person.
"The fact that we can do this in person makes me feel really good," Lucckesi said.
Tom Volez, FCC student and saxophonist, said, "It's nice to play in front of people again.
Another music student, Hunter Buck, came to the festival as a student for six years before the pandemic. Buck will check vaccination cards and negative COVID tests for the festival.
"Letting these kids have the opportunity to perform on a live stage and get feedback from the judges is very important," he said.
Lucckesi made the decision to ask the schools to bring one group each, recalling his experiences coming to the festival when he worked at other schools.
"When I worked at Buchanan, I had four or five bands and I could fill the morning slot on my own," Lucckesi said.
Attendees must provide proof of vaccination or a negative COVID test within the last 72 hours. Masks are mandatory inside for everyone.
The concert is free for FCC students and the community.