History through our eyes: June 30, 1984, the jazz festival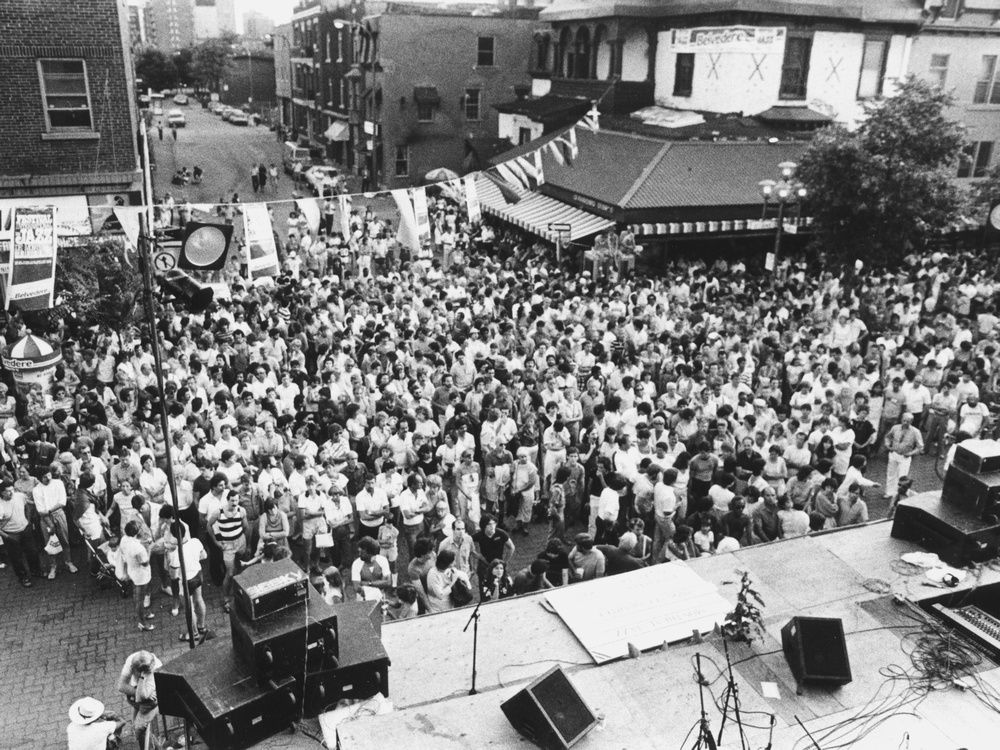 "The caliber, variety and sheer size of this year's event have secured its position as one of the world's premier festivals," we wrote later.
Content of the article
On June 30, 1984, we reported that the fifth Montreal International Jazz Festival had started the day before — cue the tomatoes — "on a high note." Dixieband strutted around the Carré Saint-Louis "as children danced, old men seated on benches tapped their feet, ice cream vendors transacted business, and everyone smiled."
Content of the article
As shown in the photo by Pierre Obendrauf, then as now, free outdoor concerts were an integral part of the festival, but at that time the action took place along the rue St-Denis, where there were three stages exteriors in the area between Sherbrooke and Ste -Catherine Sts. The move to the Place des Arts area was still a few years away.
Of course, there were paid shows too, and our June 30 edition featured a rave review of a gig at the Spectrum by a relatively unknown young American named Bobby McFerrin, which we described as "effortlessly moving music." ".
The previous evening, the shows of Stéphane Grappelli, Gato Barbieri, Lyle Mays and Astor Piazzolla were sold out, and there were only a handful of tickets left for Bruce Cockburn, it was reported. Meanwhile, tickets were selling out so fast for Pat Metheny – a perennial festival favorite – that an eighth show at Club Soda had been added.
Content of the article
One of the highlights of that year's festival was Oscar Peterson's performance with Jean-Luc Ponty and the Montreal Symphony Orchestra at the Forum.
Overall, around 300,000 fans turned out for concerts, we reported in our July 9 roundup, and "the caliber, variety and scale of this year's event ensured its position as one of the world's leading festivals". we said it.
This year's festival – the 42nd edition – opens on Thursday and will run until July 9.
History Through Our Eyes: Photos of People and Events That Shaped 20th Century Montreal, which compiles the original 2019 series in book form, is available online at montrealhistorybooks.com and at local bookstores. part of the product books sold at the online address will go to the Gazette Christmas Fund.
More history through our eyes

History through our eyes: June 27, 1986, the jazz festival