Introducing the EFG London Jazz Festival 2022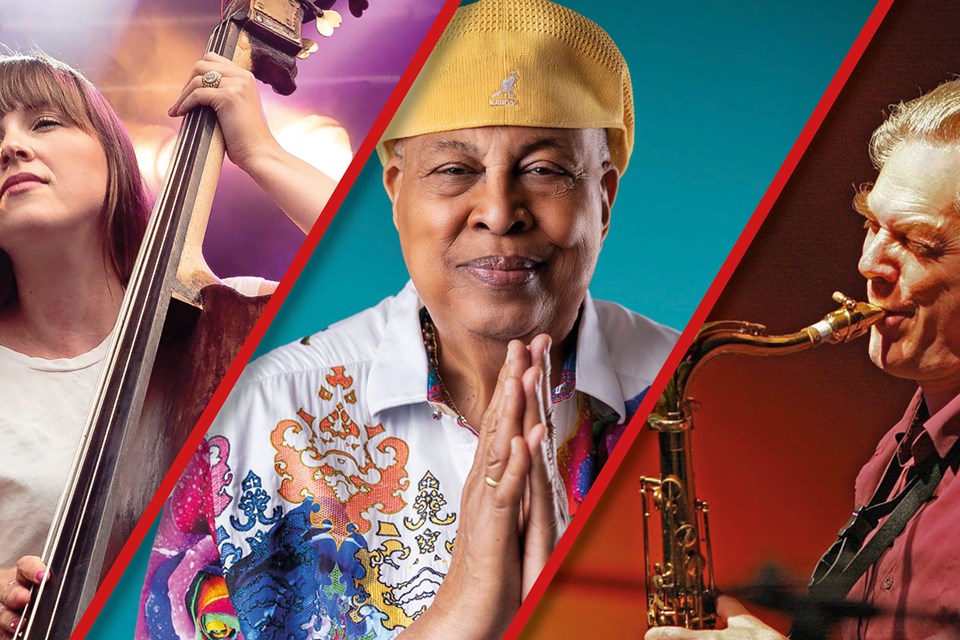 This year, Pelin Opcin, director of the EFG London Jazz Festival is in an optimistic mood. After two years of her and her team pulling out all the stops to keep the festival running, 2022 sees a return to the size and scale of the event as it was until 2019.
It stretches across London, encompassing the grand venues of South Bank, Barbican and Cadogan Hall, as well as Kings Place, as well as an array of smaller clubs and venues that don't just include obvious names like Ronnie Scott's, Pizza Express and Jazz Café, but Karamel 22 in Wood Green/Hornsey, Woolwich Works, London Grand Junction in Paddington and Jazz Café Posk in Ravenscourt Park, not forgetting that old trusty Bull's Head in Barnes. And it has an incredible array of talent, from young names playing their first festival gigs to a remarkable roster of international stars.
"It was a big beast to organize," says Pelin. "It's a comprehensive plan, which doesn't just focus on one corner of jazz and improvised music, but also sees where they relate to other musical forms. Traditionally, this festival has always had a great palette, both in terms of variety and size, and we are happy to return to it this year.
Ron Carter will perform on Sunday, November 13 at Cadogan Hall
The sheer number of big names on the bill is immediately apparent, but Pelin says there's a good reason for that, beyond the fact that many international artists weren't able to tour at the time of the online festival. toned down 2020, or from the bigger but not quite back to normal 2021 edition. "The November festival is our 30th anniversary, so it's something special for us. I am particularly honored that so many of our great talents have chosen to return to London, but there is an underlying synergy with the celebration of their birthdays! So we have Ron Carter marking his 85th, and so does Mike Gibbs. Chucho Valdes turns 80, and at a special event Marcin Wasilewski and the BBC Concert Orchestra will also celebrate what would have been Tomasz Stańko's 80th birthday. It is also quite an important year for John Garbarek because he is 75 years old! When it comes to birthdays, however, the other thing we highlight is Charles Mingus' centenary. The Nu Civilization Orchestra will celebrate this, including its collaboration with Joni Mitchell, and on the same evening in the QEH foyer we will have a screening of a dance film based on Black Saint and the Sinner. But I guess overall what we're celebrating the most is the return to a full program and, judging by the early sales, the full audience as well. Yet we have also learned a lot over the past few years and will also be hosting online events from some of the smaller clubs.
The Big Swing ft. Emma Smith, Georgina Jackson & Vula Malinga: Friday November 18 at Cadogan Hall
I was struck by the number of singers on the program, from the first evening with the venerable Sheila Jordanfollowed in a short time by the trumpeter-singer Andrea Motisyoung singer-songwriter Rosie Frater-Taylor, Norma Winston with the trio Small Print, Kurt Elling, Diane Reeves, Melody Gardot and our national treasure Elaine Delmar, not to mention the annual Jazz Voice show. "You're right", agrees Pelin, "I think it's an incredible range of singers and we're not just dealing with standards performers or singer-songwriters, but we'll have a range of singers with global roots. A What we like to do with the festival is create streams where we can steer audiences who opt in to an event to similar or contrasting gigs that they might enjoy, so that we have a strong vocal component. A concert of which I am particularly proud is the Big Balançoire, featuring Emma Smith and Georgina Jackson with Vula Malinga. They'll lead a 17-piece big band of mostly female musicians, and their take on the American songbook will be a little ironic – songs by men, sung by women!"
Rymden will perform on November 12 at Queen Elizabeth Hall
This year's program has a very strong Scandinavian component. We had already mentioned Jan Garbarek, but there will be concerts (among others) of Tord Gustavsen, Rymden, Jasper Hoiby and Daniel Herskedal. "I think for years Scandinavian musicians have taken our art form to a new level," says Pelin. "The musicians you mentioned have a distinct musical language, and that also applies to musicians like the Norwegians Ellen Andrea Wang, the singer-bassist who plays Tord's opening set. This music must have its place in our program, and there are other Scandinavian musicians on the bill such as bassist Petter Eldh, who will play with Kit Downes among others.
The Scandinavian accent doesn't take away from the fact that this year's festival looked to the whole of the UK for a variety of homegrown talent.
"There are a lot of Scottish players," agrees Pelin, "whose Fergus McReadie is already a national treasure! And with Calum Gourlayis the big band and Helen Kay's Kim Trio, we're definitely focusing on that, but we've also collaborated with Jazz North and among the free sets in the Clore Ballroom at Festival Hall will be a Northern Jazz showcase.
After looking at some of the specific elements of the festival, I wondered what Pelin was most proud of about the 2022 edition. She was quick to reply, "It's the balance between icons and new talents. We need the next generation to be heard, but we also want them to enjoy each other's company. And I also think that we have many mini-festivals within the general framework. So, for example, the Chicago scene is important. We will have the first appearance in London for a decade by Henry Threadgill. And next to him is Anthony Braxton with his new acoustic group. That same day, we expect young London musicians to react to their music on the free stages of the Barbican. And linking the generations is a percussionist Kahil El'Zabar, a Chicagoan of course, but who works here with two generations of Don Cherry's family. And we will also have similar focuses on West African music and Afro-Cuban jazz. So, for the free stages before Chucho Valdes' show, we welcome other musicians from this heritage. One thing we learned from our audience feedback on the 2021 festival is that listeners missed the Latin jazz that had so often been a part of previous editions of the event. So we listened to this request and acted to ensure that there was Latin music on the program in a variety of settings.
"One thing I'm particularly happy to showcase is a connection between British artists and Turkish musicians, including the 'Female Voices of Turkey'. But it's mostly Air Anatolia, exploring Anatolian psychedelia. So the founding members of this scene, Yasin Veyasin, Tolga Boyuk and Al McSween will meet with players like yazz ahmed. "It's a shared history, and it's great to bring legendary members of the Anatolian scene from the 1960s to work here with British players and create something completely new."
The EFG London Jazz Festival runs from November 11-20, for the full program and ticket tour www.efglondonjazzfestival.org.uk