Istanbul Jazz Festival bounces back from pandemic's long silence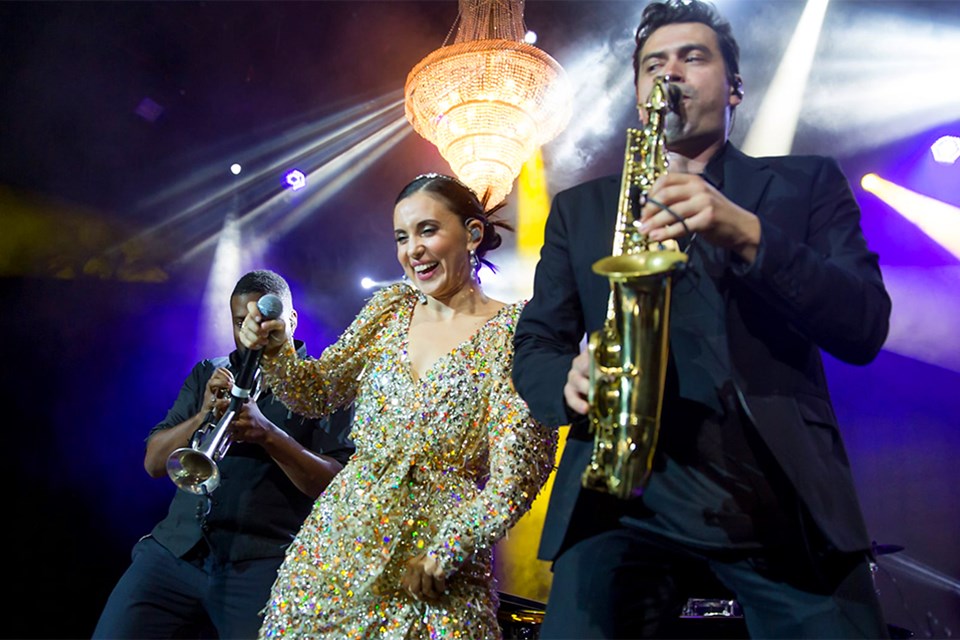 Originally taking place in July, the festival schedule has been changed this year as part of pandemic precautions, and concerts have been held under current security measures. That said, it was a breath of fresh air for the city's music lovers, and showing QR codes at the entrances or wearing masks during concerts didn't hurt their excitement after the long break in the houses watching. online concerts or alumni videos. . In total, around fifty concerts, organized in ten different places, received nearly 34,000 spectators.
Jazz tunes on the Bosphorus
The most anticipated name at this year's festival was four-time Grammy winner Angelique Kidjo. His concert at the Esma Sultan mansion on the Bosphorus coast, one of the most admirable places of the festival, brought his rhythms under the theme of an African odyssey to the delight of the public who had the chance to find a ticket for the sold-out event. It was a night of ultimate musical enjoyment, not only thanks to Kidjo's breathtaking performance, but also the captivating virtuosity and energy of everyone in his band.
Another unforgettable moment of the festival, always with the mesmerizing night views of the Bosphorus as a backdrop, this time in Feriye, was that of Itamar Borochov, the Israeli jazz trumpeter who imbues his ethereal music with melodies of the East. in a beautifully unique setting. manner. Borochov was accompanied by Rob Clearfield on piano, Cedric Raymond on double bass and Jay Sawyer on drums; who all received applause from the audience at the end of the concert which took place in a dreamlike atmosphere, starting and ending with tunes from the sky Blue nights.
At an evening dedicated to Ennio Morricone, under the trees of Sultan Park at Swissotel the Bosphore, Ferit Odman's first quintet was on stage with a stimulating performance. Then Stefano Di Battista, one of the main alto saxophonists of contemporary European jazz, with Fred Nardin on piano, Daniele Sorrentino on double bass and André Ceccarelli on drums were in front of an excited audience. The incredible performance of Di Battista and his group of a setlist comprising the unforgettable songs of Morriconne composed for iconic films, coupled with the saxophonist's anecdotes on Morricone, made it a very warm and heartfelt event at the festival this year. year.
The Creativity Bridge between Turkey and the Netherlands
28e Istanbul Jazz has hosted some great music with Dutch connections. Karsu Dönmez (top photo), a Turkish-Dutch singer and pianist from Amsterdam, gave a magnificent concert in Istanbul's best venue, the Cemil Topuzlu Open-Air Theater, paying homage to the legendary Ahmet Ertegün, the founder of 'Atlantic Records. On this special evening, accompanied by a vibrant orchestra, she performed some of the most unforgettable songs recorded by Atlantic Records and originally performed by Ray Charles, The Rolling Stones, Aretha Franklin, Bee Gees, Led Zeppelin and Eric Clapton.
Altın Gün, an Anatolian rock band from Amsterdam, founded by Dutch bassist Jasper Verhulst and composed of Dutch and Turkish musicians, gave two sold-out performances to the great enthusiasm of the audience who danced the night away with classic rock and Anatolian folk. songs presented in the psychedelic and funk context of this idiosyncratic ensemble.
Niels Broos' collaboration with Mabel Matiz, again in the inspiring atmosphere of Cemil Topuzlu, was another very successful Dutch hip party at the festival. The famous jazz and electronic keyboardist Broos, and Matiz, a highly respected figure in contemporary Turkish pop, had great synergy on stage accompanied by a cheerful orchestra. The night was also meaningful and exciting with messages from Matiz challenging homophobic hysteria all over the world and particularly in Turkey.
The festival was supported by thirty-seven institutions in total while twenty-nine concerts met the public for free. Four free workshops for children and families were organized by IKSV Alt Kat: Learning and Interaction Space, a unit of IKSV that works to improve access and participation in artistic and cultural events, especially for those with opportunities limited for such activities.
Vitrin Showcase for Contemporary Music from Turkey has once again provided a platform for successful musicians and ensembles across the country to connect with international industry players; while the Young Jazz project gave six groups the opportunity to perform for festival audiences and earn income after the pandemic's long silence.
With that sweet taste in our mouths after the festival, for now, we can just thank the organizers for their great effort to make this happen under such extraordinary and difficult conditions, and hope that next year we will be there without need to wear masks!