theartsdesk in Montreal – delights and discoveries at the 42nd International Jazz Festival
Thousands of people head downtown to the Quartier des Spectacles for the free events, from the smaller free stages to the main Place des Arts TD Stage, which can hold up to 60,000 people for to party. Of around 350 events during the festival period, at least two-thirds were free.
This was the 42nd edition of the festival and marked a strong comeback, resuming large-scale events after a two-year hiatus. But the festival is much more than its free outdoor stages. Despite the ravages of endless redevelopment, Montreal is blessed with a multitude of performance spaces. Club Soda, for example, is a great little 900-seat venue, which I can only describe as what the Jazz Cafe would be like if the Camden venue was actually laid out the right way, with the stage at the end of the space rather than to the side.
The Quartier des Spectacles has concert halls with a capacity of 1,500 (Théâtre Maisonneuve) up to Salle Wilfried-Pelletier (3,000), where there are paid concerts. The town's two tiny jazz clubs, Upstairs (in a basement, obviously) and Dièse Onze (meaning "sharp 11") also have special festival programs. Sometimes (not this year) there are events at the Bell Center ice hockey stadium (21,000 capacity), which happens to be very close to where, it is often said, jazz was born in Montreal.
The juxtaposition of familiar and unknown, jazz and non-jazz, free and paid, indoors and outdoors, leads to a variety of surprises and, yes, the occasional disappointment.
After the two-year hiatus, I had resolved not to give up the unique experience of being among the vast, young and friendly crowd that gathers in front of the TD Stage on a hot summer night. I headed there for a band that I knew the programmers were happy to put together, the fun and funky Clay and Friends, whose instructions for "Move your Thang" were universally listened to (illustrated above by Benoît Rousseau / FIJM).
It is inevitable that many more gigs are missed than can actually be accessed. The press room can be quite a competitive environment, and the gigs I would have liked was the Christian McBride show, which – essentially unannounced – was a duet gig with Kenny Barron. Another shortcoming was bassist Avishai Cohen's show where, due to airfreight delays, a trio show became (unforgettably) a duet on borrowed instruments with drummer Roni Kaspi.
My absolute musical highlight was the completely mesmerizing solo bandolim show by Hamilton de Holanda. He was sometimes nicknamed "the Brazilian Pat Metheny". It's debatable, but his reputation and profile outside of Brazil always seems set to be higher. Ludovico Einaudi (shown below by Victor Diaz Lamich/ FIJM) had the honor of selling the most tickets at this festival. Delighted, sold-out audiences heard it for three nights.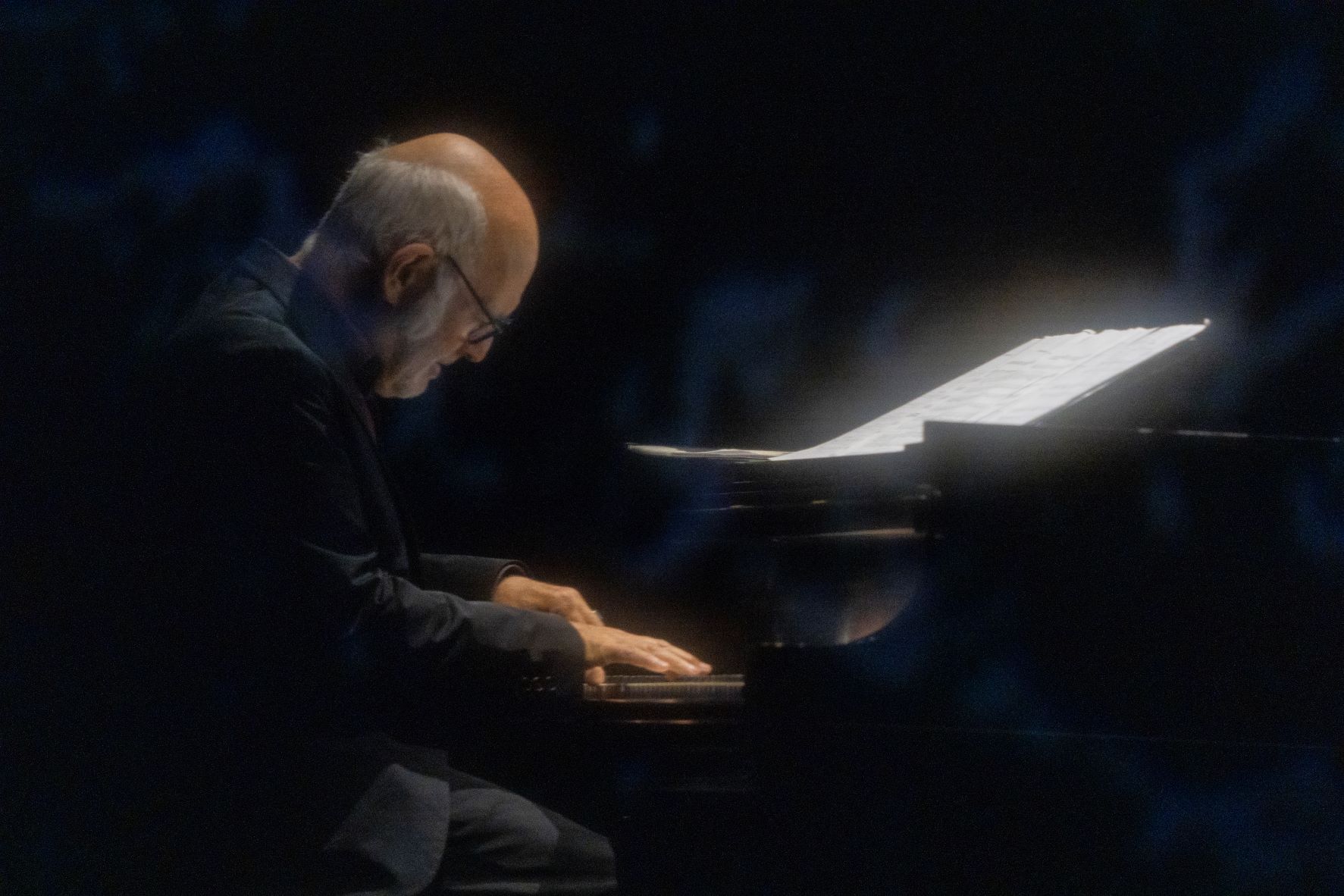 A personal highlight was an evening spent at Dièse Onze. Pianist Marc Copland has a unique style of thinking, honed through his collaborations with other jazz greats like John Abercrombie. I also heard from the Jensen sisters Christine and Ingrid, who are determined to take risks and make things happen, and were in a quintet with bassist Ira Coleman and stellar, energetic, inspiring but misunderstood (these four adjectives unfortunately become routine when writing about Canadian musicians) Steve Amirault. On the other hand, I expected a lot from the group YES! Trio (Aaron Goldberg, Omer Avital and Ali Jackson Jr), after seeing them play an amazing gig in 2017. This time it felt like they were mostly doing a lap of honor.
A local commentator describes the festival as "a valid passport to the unknown: 10 days of jazz in all its forms and new, fresh and surprising things". So true.
Sebastian Scotney was the guest of the FIJM